The Best Mens Golf Joggers of 2023
Golf Joggers offer a contemporary take on traditional golf pants and are suited for fashion conscious golfers who want a modern look on the course. The Avalon Golf Jogger Pant line is designed for style, performance and comfort and incorporate standard jogger elements such as tapered legs, ankle zips and cinched ankle openings. Our Golf Joggers Collection includes 4 distinct styles and over 15 colors – available in 5 waist sizes and 4 different inseam lengths.
We construct our Golf Jogger Pants using the finest technical fabrics, superior craftmanship and are expertly tailored with a modern, slim-fit profile. They are also highly functional and will transition effortlessly from office to the golf course. With the largest selection of joggers for golf, Avalon is sure to have the perfect jogger for your game.
Avalon Golf Joggers Offer Unparalleled Performance, Comfort, Quality & Style
Mens Golf Jogger Pants Built for Performance, Comfort & Style
Avalon Golf Jogger Pants are catered to men who are looking for a stylish and progressive golf course look. We design joggers for golf and offer 4 unique styles that are sure to impress: the Players, Performance, Range and Tour Golf Jogger. In all these styles, we balance fit, style, functionality, comfort and quality. We cut all our golf jogger from the finest materials that are breathable, stretchy, ultra-soft and lightweight. Our quality is unmatched and we expertly tailor these slim-fit golf pants, to provide the best fit in the industry. Our collection features Golf Joggers with Belt Loops handcrafted with the finest attention to details include comfort lined waistbands, tapered legs, and ankle zippers. If you're looking for the best golf joggers, welcome to Avalon Golf.
Explore Avalon's 2023 Golf Jogger Pant Colection
Ultra-Technical, Modern Luxury Men's Golf Joggers
A 2023 addition to our Men's Golf Pant collection, the Tour Golf Jogger will prove to be your go to pant. Cut from our proprietary AVG Tour Fabric®, this ultra-stretchy lightweight jogger checks all the boxes. Our Tour Men's Golf Jogger with belt loops feature a gripper stretch inner waistband (to keep your shirt tucked), 5 pocket design and are available in 5 waist sizes and 4 length options. Rock these slim-fit joggers on the course and be the envy of all your buddies.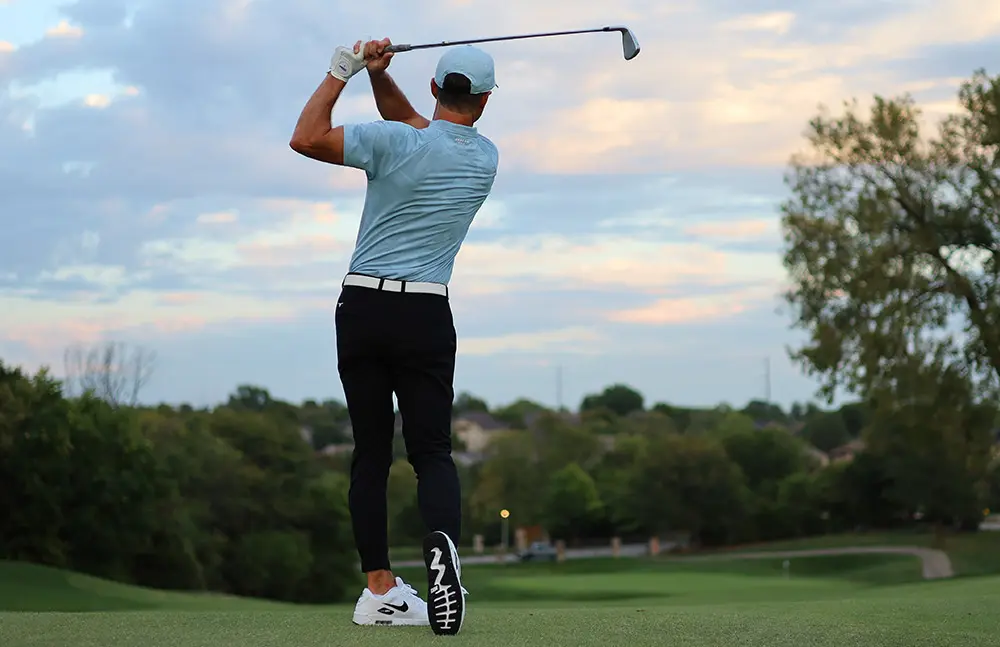 A Premium, Sleek & Stylish Men's Jogger Pant
The latest addition to our Golf Jogger Pant collection, our Players Golf Jogger is a luxury pant that is elegant through simplicity. Cut from our Performance Polyester, a lightweight stretch fabric, this jogger is a customer favorite. The Players Jogger features belt loops, an inner tack waistband that will keep shirts tucked in and 4 pockets. Ankle elastics match the pant fabric color to blend in. Shop waist sizes 30 to 38 and select from 4 length options. Get ready to look good in your Players Golf Jogger Pants.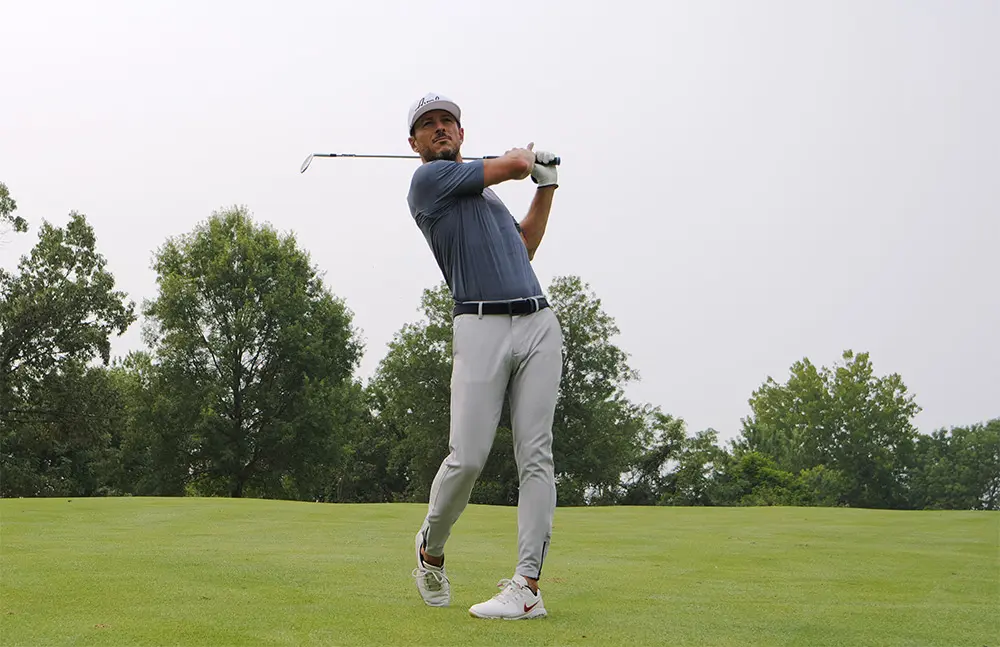 Our Modern Take on Golf Pants: Lightweight & Slim-Fitting Joggers
Our Performance Joggers have been with us since day one. Cut from an ultra-soft and stretchy premium poly/spandex blend, these men's golf jogger pants are designed for all day comfort and will keep you looking your best on the course. They include belt loops feature a 4 pocket design and offer the perfect blend of style & performance. Choose from 4 waist sizes and 3 length options.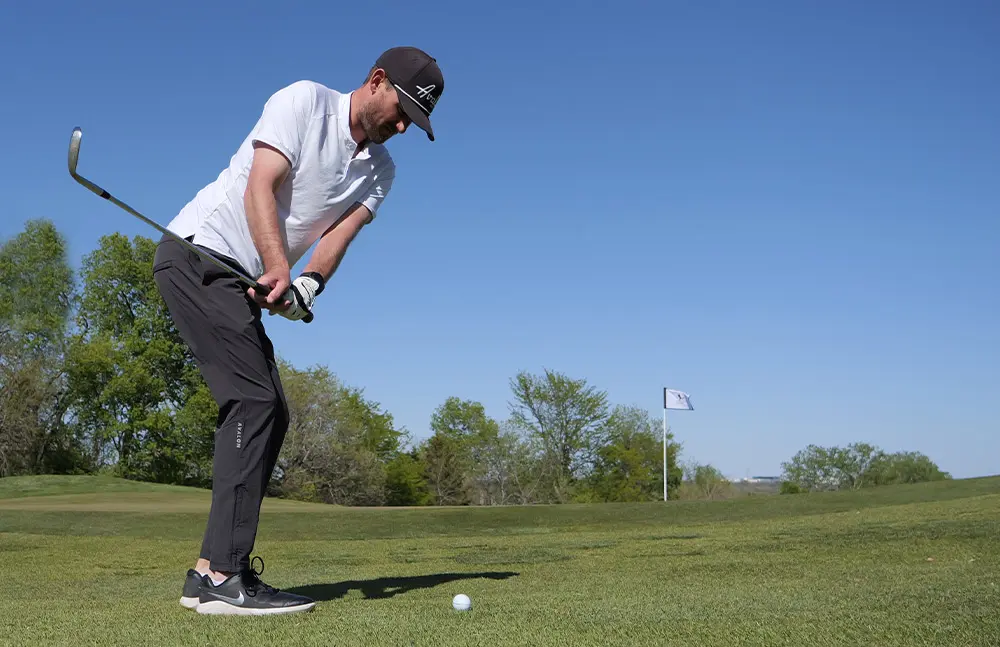 A True Hybrid Jogger Pant for Both On & Off the Course
Looking for a transitional Golf Jogger Pant that can function at the office and on the course? Look no further, the Avalon Range Jogger has you covered! Cut from our very own AVG Tour Fabric®, this lightweight material includes hyper-stretch and will keep you cool and comfortable all day long. Avalon Range Jogger Pants include a hidden drawstring waistband, 3 pocket design and is available in 4 sizes and 2 lengths.
"Straight out of the bag, I LOVE these Golf Joggers! I've recently bought premium pants from Ten Thousand, Rhone, Primo, LuLu, etc... Avalon's Golf Joggers are an exceptional fit & way better than the other brands."
What makes Avalon's The Best Golf Joggers of 2023?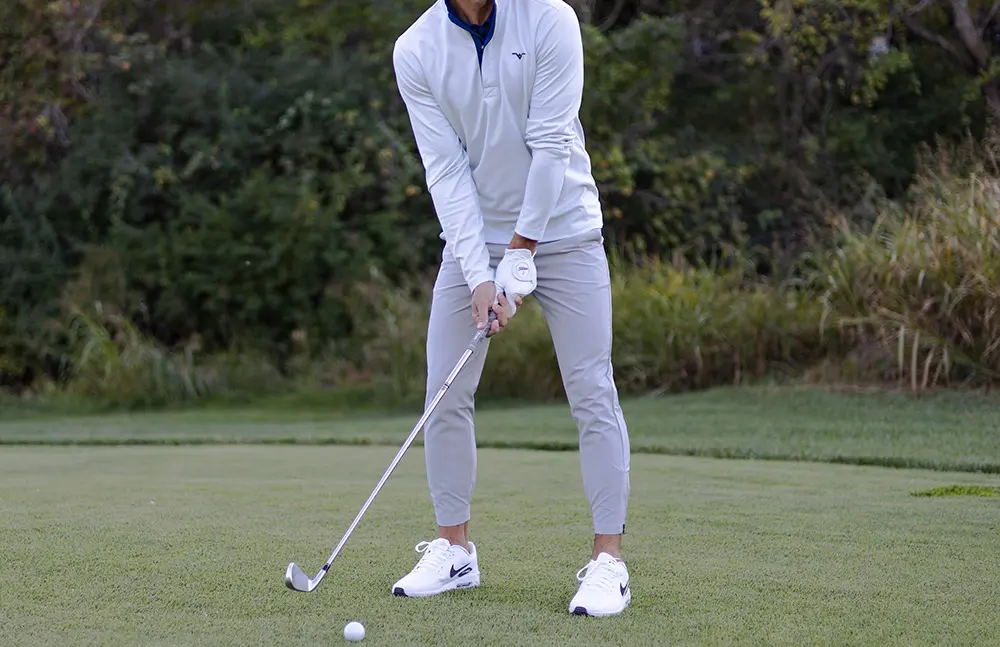 Ultra-Premium Golf Joggers Built to Perform
Avalon Golf Joggers are in a league of their own. We guarantee no other brand will match Avalon Jogger Pants quality and fit – and stand behind our products with a 100% customer satisfaction guarantee (along with free returns). We spared no expenses when designing our line of golf jogger pants and are confident we offer the best joggers in the golf. From the modern tailored, slim-fit profile with attention in the finest details, Avalon Golf Joggers are sure to be your favorites. If you're looking for a performance based golf pant that will also ensure you're the most stylish one on the course, Avalon Golf Joggers are going to deliver.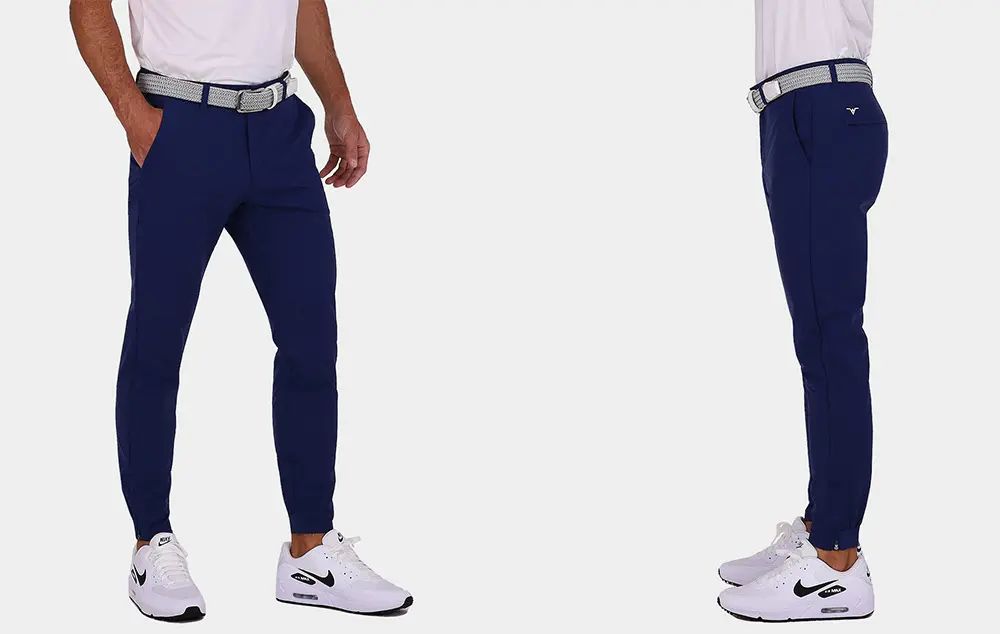 Exceptionally Tailored, Slim-Fit Joggers
It's all about looking good – cause when you look good, you'll feel good and play good. It's our motto and we stand behind it with the most expertly tailored, slim-fit golf joggers in the game. We've tried our competitors products for sizing and fit – they all take the same approach "let's make one size fit all'. From baggy things, to awkward lengths, they missed the boat. Avalon joggers will provide a modern, sophisticated look that will fit better than the others – we guarantee it! We also offer our golf joggers in 3 length options so no matter how tall or how short, we've got you covered.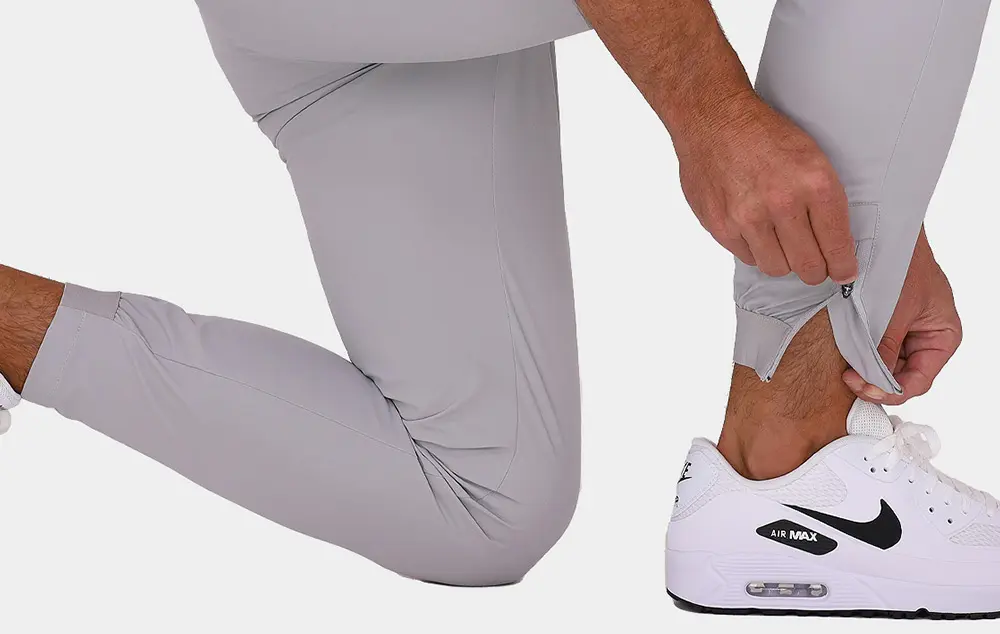 Unrivaled Quality & Craftmanship
While most men's golf jogger brands are looking at how to cut costs in design, production and manufacturing to increase margins, we operate on the contrary and ask ourselves 'how can we make our products better?' We don't skimp on cost in fabrics, trim and manufacturing and source only the highest quality components. We parlay this with expert craftmanship – using advanced sewing methods and reinforcing all stress points on the pants to ensure our products last well beyond their years. Our customers demand quality and we are dedicated every step of the way to far exceed their expectations.
Golf Jogger with Meticulous Attention to Detail
We understand the finest details can make a big difference. We studied other Golf Jogger Brands and their shortcomings in order to deliver a better men's golf pant that paid attention to even the finest attention to details. From branded buttons, to comfort liners in the inner waistband, to highly durable micro-mesh pockets and even branded waistbands. We also focused on utilizing the best quality zippers we could source to ensure they wouldn't be a point of failure. It's these small finishing touches that further solidify Avalon Jogger Pants as the best in golf.
Avalon Golf Jogger Pant Gallery
View RELATED POSTS on Men's

Golf Joggers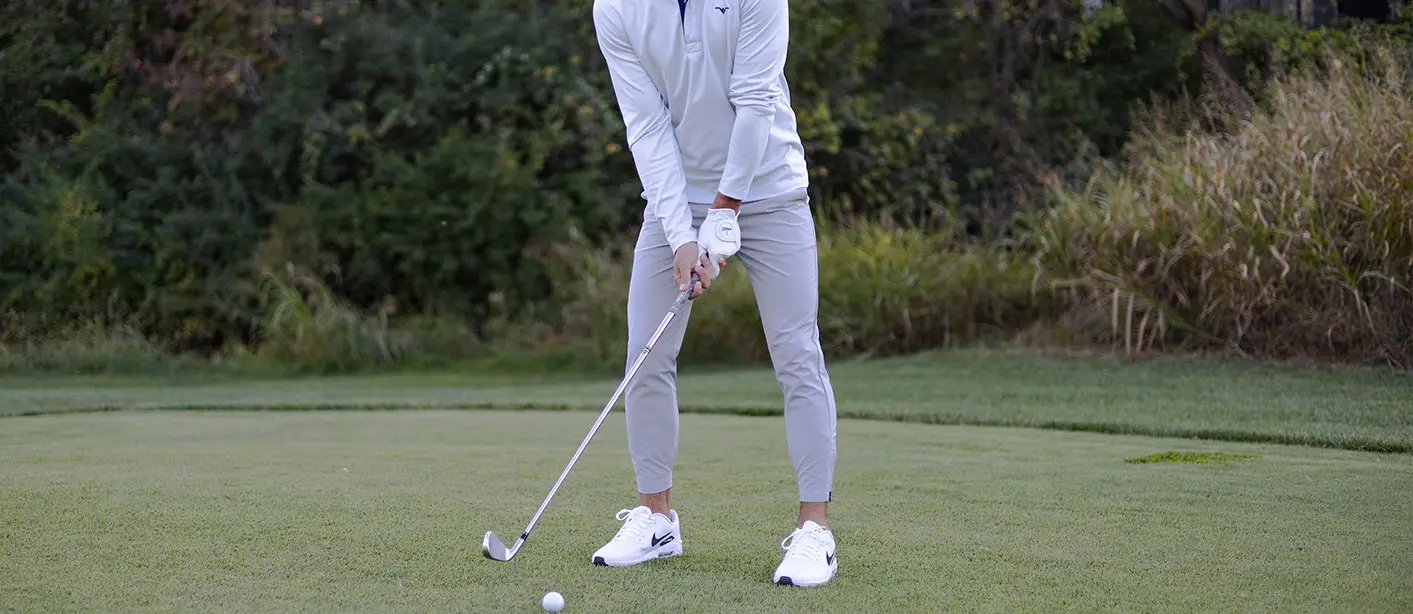 Golf joggers are one of the hottest apparel trends in golf today. We're starting to see the jogger pants style emerge all over the sport with tour pros and amateur golfers alike sporting this new trendy look. The popularity of joggers in golf has risen with the game of golf itself becoming more popular and with new interest from a younger demographic who put more emphasis on the fashion. We are starting to see more golf apparel brands (adapt to the modern needs of today's golfer and introduce golf joggers in their lines. Let's dive into learn more about Golf Jogger Pants. Let's dive into learn more about Golf Jogger Pants.