Explore our Collection of Slim Fit Golf Shirts
At Avalon Golf, we know a thing or two about style. We design luxury men's golf shirts that not only look good, but help you perform you best on the course. Our designs aren't flashy and we surely don't to make the loudest, graphic filled golf shirt possible, but that's where we shine – elegance through simplicity. Our line of slim fit golf shirts are available in traditional fold collars, blade collars and  long sleeve golf shirts. We expertly tailor all our shirts with a tapered midsection to ensure for the perfect fit. We're confident you wont find a better fit. Combine precision tailoring with premium technical fabrics and superior attention to detail and we've an unbeatable mix for the best golf shirt in the game. Because golf's about looking good too!
Golf Shirts Crafted for Performance & Comfort, Set Apart by Style
Avalon Men's Slim-Fit Golf Shirts & Polos
Avalon has emerged as a favorite in modern men's golf wear – delivering stylish designs that blend comfort & performance. Our collection of Men's Golf Shirts are no exception are are designed without compromise. We strive to deliver the best handcrafted apparel in golf and take the extra steps required to deliver on our mission. We design the finest fabrics for use in our mens golf shirts and taper shirts with a modern slim-fit for the athletic golfer. Explore our many styles available in both traditional golf polos and blade collar golf shirts. Welcome to the best men's golf shirts in the game.
Shop our Men's Golf Polo Shirt Collection
All Avalon Golf Apparel purchases are backed by a 100% satisfaction, moneyback guarantee
Explore Men's Golf Polo Shirts by Collection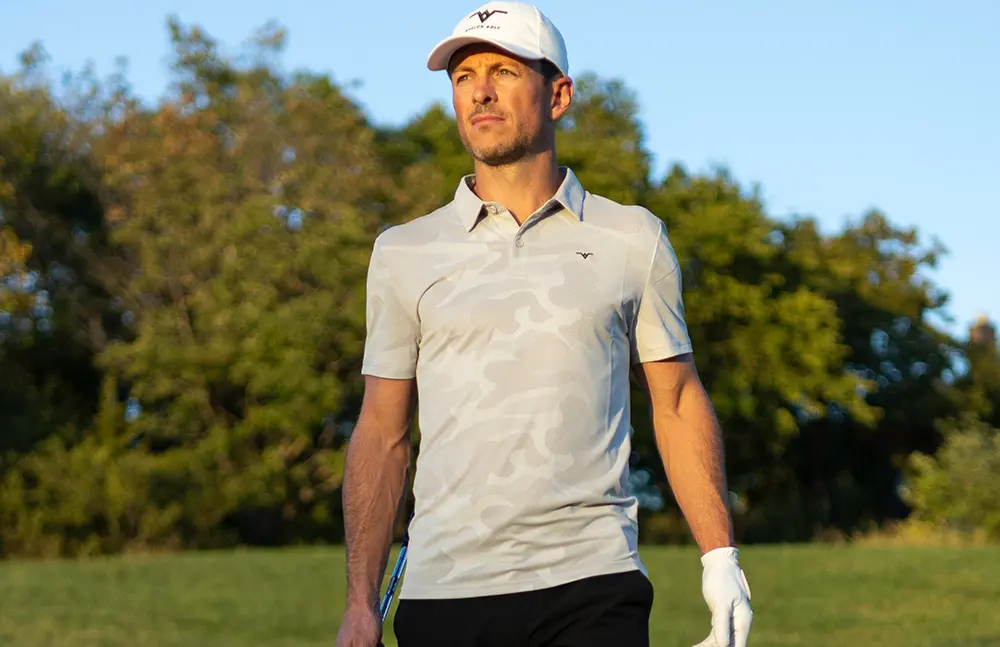 Avalon Tour Jacquard Golf Shirt
Slim-Fit Golf Shirt cut from a Premium Textured Jacquard Fabric
Our latest addition to our Men's Golf Shirt collection, the Tour Jacquard Golf Shirt line is designed without compromise. Our precision tailoring ensures for a perfect, modern, slim fit golf shirt. The premium tri-blend fabric used in the Tour Polo is soft, lightweight, wrinkle free, moisture wicking and includes a 4 way stretch. It also features a knit textured jacquard camo pattern with micro-holes for airflow venting to keep you cool and comfortable on the course. Experience modern luxury golf apparel with the Avalon Tour Men's Jacquard Golf Shirt.
Avalon Tour Blade Golf Polo
Ultra-Soft & Lightweight Camo Blade Collar Shirt
The Tour Blade Golf Polo is a modern styled shirt with mock collar. We've handcrafted the Tour Blade from a tri-blend jacquard fabric that is not only lightweight & breathable, but also soft and stretchy. Woven into the jacquard is a textured camo pattern with micro-holes to allow for maximum airflow. This tailored slim-fit golf shirt includes fitted sleeves and a blade collar to provide a modern and elegant look that is sure to impress both on and off the course.
Ultra-Soft & Lightweight Camo Blade Collar Shirt
This ultra-soft, lightweight blade collar golf shirt is a must have for golfers who want a modern look. Cut from a polyester & spandex blend, the Performance Blade merges comfort, style & performance. We've tailored our Blade Collar shirts as slim-fit and feature a 2 button placket with shallow, low cut blade collar for the fashion forward look. Breathable & moisture wicking to keep you cool with a UPF rating of 40 to keep you protected from the sun.