Sam Ryder's Golf Pants: Round 4 at the Farmers Insurance Open
Sam Ryder's pants (not his near flawless golf) created quite the buzz at this years Farmers Insurance Open. On the final day, Ryder, joined Rahm and Finau in the final group at Torrey Pines South with a 2 shot lead. Watching Ryder come to the first tee, we knew there would be a lot of buzz in the golf world surrounding his fashion choice.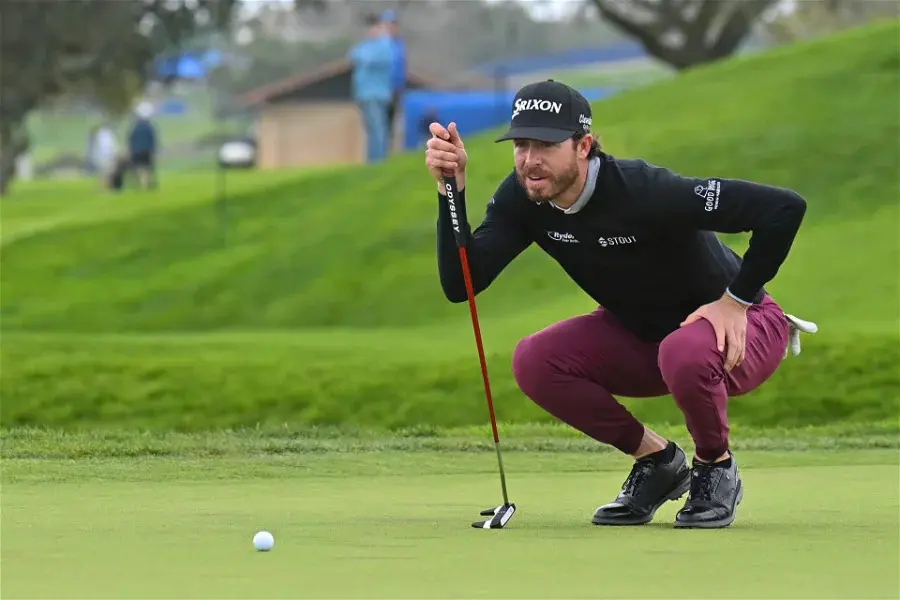 January 28, 2023: Sam Ryder lines up a putt on the 3rd hole during the final round of the Farmers Insurance Open at Torrey Pines South in San Diego, California. /CSM San Diego USA – ZUMAc04_ 20230128_zaf_c04_125 Copyright: xJustinxFinex
Ryder wore a fitted light black crewneck sweater over a contrasting gray polo and a cranberry(?) colored, high ankle cuffed golf jogger pant. Its what was on the bottom that set the golf world in a frenzy. Golf pants with jogger style have become increasingly popular among younger demographics and style conscious golfers. Golf Jogger pants, like the ones Sam Ryder was wearing at the Farmers Insurance Open, offer a modern look with tapered leg, high ankle cut (typically worn with no-show socks) and cinched ankle. The feelings were certainly divided on platforms such as Twitter with CBS tweeting a fill in the blank on Ryders pants:
Ex-PGA Golfer, Phil Mickleson even took his hand to weigh in on Ryder's fashion choice (only to be ripped by fellow Jogger guy Erik Van Rooyen):
🤔
The Tour doesn't allow shorts but does allow this weeks leader to wear joggers with ankle socks? Showing 4 inches of ankle? I'm no fashion guy, never will be, but there are some things I won't ever understand 🤷‍♂️

— Phil Mickelson (@PhilMickelson) January 28, 2023
Ryder's wore Golf Jogger Pants from a brand called Greyson and the style he wore at the '23 Farmers Insurance Open was the Montauk Jogger in Hawkeye color. Described on their website as 'a pure example of a sport and dress hybrid jogger', they offer a cuffed ankle with short inseam. These $148 Joggers are a statement golf pant aimed at fashion forward golfers and younger demographics.
 Copyright: Greyson Clothiers
Golf Joggers in 2023: To Be or Not to Be?
As a Men's Golf Wear Brand who designs and sells Modern Style Golf Apparel, including Golf Joggers, we are going to be a bit biased in our opinions. We loved Sam Ryder's look this week at Torrey Pines. It was especially nice to see golf joggers thrust into the spotlight with Ryder being in the final ground in Round 4. Its obvious joggers on the golf course aren't going to be for everyone – especially golf traditionalists. But, in 2023, as golf continues to grow and become more inclusive especially for younger demographics, the jogger trend is one we expect to see continue growing. We're excited about new fashion trends in the sport and are thankful for Sam Ryder and others who continue to progress the look of golf.
Avalon is an American based men's golf apparel brand. The idea behind Avalon was shaped from the frustration of finding good quality, reasonably priced golf joggers with belt loops and modern mens golf apparel. Traditional brands missed the mark with new age styles while the up and coming, modern focused golf apparel brands were overpriced. This underserved market in the golf industry presented us an opportunity – to create a high-quality, honest priced, contemporary golf apparel line that ensured golfers could look good without having to break the bank.
We know what is required in performance based golf apparel and understand what our target market wants in their golf apparel when teeing it up at the local muni or on their boys trip to Scottsdale. As a men's golf wear designer, Avalon focuses on high quality, tailored golf joggers and apparel, that blends performance and style. We know golf because we live and breath golf. Our  Modern Luxury Golf Apparel includes Golf Joggers, Golf Shorts, Blade Collar Golf Shirts, Golf 1/4 Zip's, Braided Golf Belts and Accessories.
We're confident in our ability to design and deliver some of the most premium goods in the golf industry.