Golf Joggers: Are they here to stay?
Golf joggers are one of the hottest apparel trends in golf today. In 2023, we really started to see the golf jogger pants style emerge all over the sport with tour pros and amateur golfers alike sporting this new trendy look. The popularity of joggers in golf has risen with the game of golf itself becoming more popular and with new interest from a younger demographic who put more emphasis on the fashion. Much to our surprise, Golf Brands have been slow to adopt Golf Joggers into their catalogues, instead opting for more tailored and slim fitting golf pants. Saying that, we are starting to see more golf apparel brands (ex. Greyson Clothiers and GFore) adapt to the modern needs of today's golfer and introduce golf joggers in their lines. We expect the Golf Jogger trend to continue into 2024 and beyond. Let's dive into learn more about Golf Jogger Pants.
Are Joggers Appropriate for Golf?
Pending the material and style, Joggers will conform to dress codes and be appropriate on the golf course. When golfing, we suggest to avoid joggers made of cotton (think sweatpants material) and joggers with waistband drawstrings that hang out the front – as these are often frowned upon and even disallowed at certain golf and country clubs. If you plan to wear joggers to the course, you may still take some heat from the games traditionalists (remember when Justin Thomas wore Jogger Pants during Round 1 of the Open? Or when Sam Ryder wore Joggers in the final round at the Farmers Insurance Open – the reviews were mixed to say the least). 
(Photo: Jasen Vinlove-USA TODAY Sports)
As the game of golf continues to grow and become more modern, we're confident the acceptance of joggers for golf will become a norm. For those looking for a country club safe, dress code conforming jogger, consider a specialty designed golf option like Avalon Men's Golf Joggers.
Golf Joggers are a specialty type of jogger pant that are made to conform to golf dress codes. As with all joggers, Golf Jogger Pants feature a tapered leg, that will fit slim down to the ankle and sit just above ankle. These golf specific joggers often include belt loops, a cuffed elastic ankle and are made of poly or nylon blended material (traditional golf pants fabric). The material used often provides stretch (to move with your swing), be lightweight and breathable (for those 90-degree days) and provide the comfort needed throughout a 4.5 hour round. They also feature standard 4 pocket designs, a zip-fly and front button enclosure. Golf Joggers are a fashion forward option often embraced by younger demographics who like to express their style when golfing.
Who Wears Joggers on the PGA Tour?
Joggers have been increasingly popular on the PGA Tour and lower-level tours in recent years. It all started with Rickie Fowler back in 2016 at the Tournament of Champions at Kapalua rocking a pair of white joggers from Puma. At the time, this look was not accepted too well by the public. But after a few year hiatus, joggers have begun to make their way back on tour and the look is better accepted and seeming to gain momentum. Since then, we've seen a handful of PGA Tour pros wearing joggers.
Professional Golfers on Tour who Wear Joggers
Rory McIlroy
Sam Ryder
Erik Van Rooyen (a big golf jogger advocate)
Justin Thomas (as we saw at the Old Course at St Andrews during 2022 during The Open)
Tyrell Hatton
Colin Morikawa
Eric Cole
…and even Phil Mickelson (at the 2020 Travelers Championship)
We didn't make that last name up, here is some proof!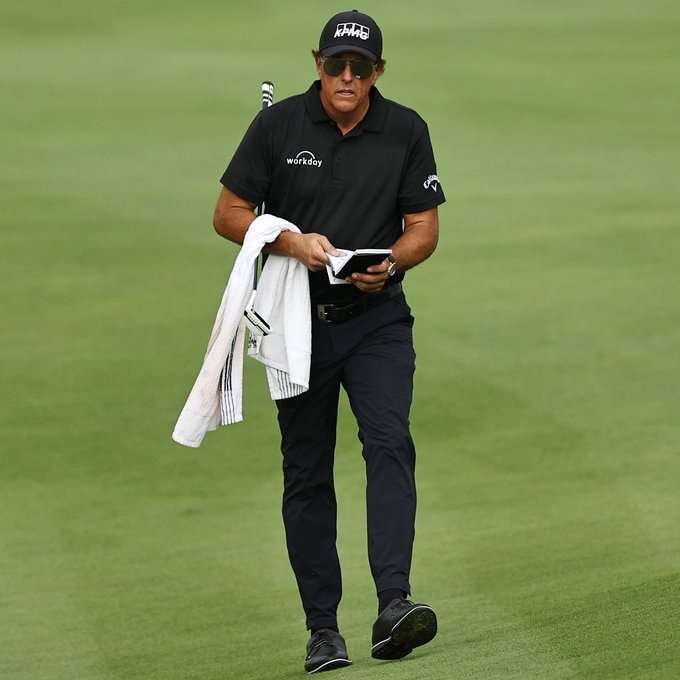 (Photo Credit: @GolfDigest –Twitter)
Joggers are far from being a staple on the PGA Tour, but we do see them trending in the right direction. We expect more PGA Tour Pro's to be showing off some ankle in their favorite joggers during the 2024 season.
Golf Joggers: The New Era of Golf Fashion
While golf joggers surely aren't for everyone, they do allow golfers to make a statement on the course – and look good while doing it. Joggers are typically designed for golfers with an athletic body type who have a sense of swagger and confidence. They length is critical (find a correct inseam for your height as highlighted in Choosing the Correct Golf Jogger Length) and we suggest wearing with no-show golf socks.
If you're feeling up to getting into a pair of men's golf jogger pants, Shop Avalon Golf Joggers:
Avalon is an American based men's golf apparel brand. The idea behind Avalon was shaped from the frustration of finding good quality, reasonably priced golf joggers with belt loops and modern mens golf apparel. Traditional brands missed the mark with new age styles while the up and coming, modern focused golf apparel brands were overpriced. This underserved market in the golf industry presented us an opportunity – to create a high-quality, honest priced, contemporary golf apparel line that ensured golfers could look good without having to break the bank.
We know what is required in performance based golf apparel and understand what our target market wants in their golf apparel when teeing it up at the local muni or on their boys trip to Scottsdale. As a men's golf wear designer, Avalon focuses on high quality, tailored golf joggers and apparel, that blends performance and style. We know golf because we live and breath golf. Our  Modern Luxury Golf Apparel includes Golf 1/4 Zip's, Blade Collar Golf Shirts, Golf Joggers, Mens Golf Shorts, Braided Golf Belts and Accessories.
We're confident in our ability to design and deliver some of the most premium goods in the golf industry.