What Length Should I Choose for my Golf Joggers?
Golf Joggers offer a modern take on traditional golf pants and are gaining in popularity with the younger and fashion-conscious golf crowds (even making their appearance on Sam Ryder in the final round at the Farmers Insurance open). Its no longer about dressing for comfort and performance on the golf course – its finding that balance while looking good too! At Avalon Golf Co, we specialize in Golf Joggers, offering ultra-premium joggers designed for golf that provide the perfect balance of style, fit and performance.
Choosing the Correct Length Golf Joggers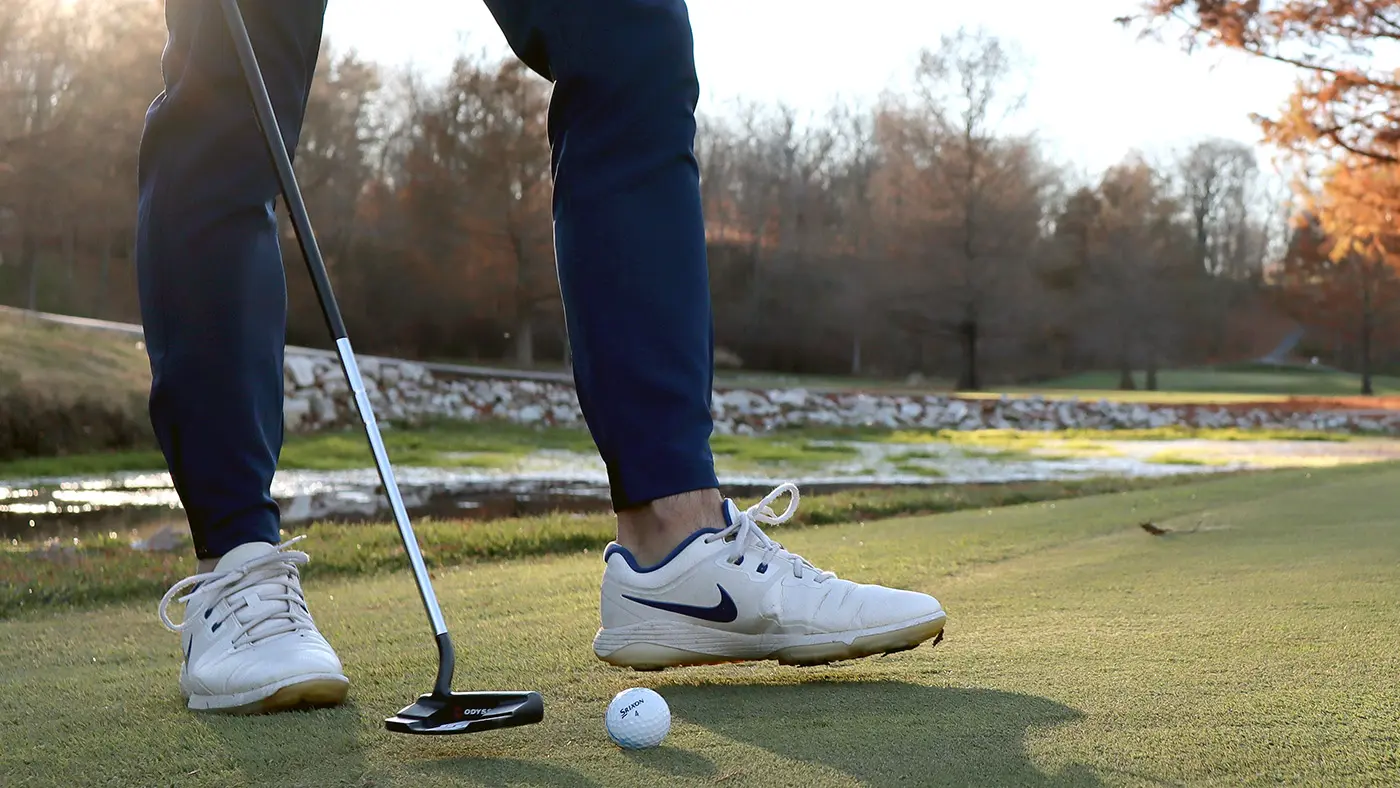 We hear it often, "What length should I choose for my Golf Joggers." Choosing the correct length is a loaded question and typically comes down to a customer's preference on styling. There are factors that beyond height that be considered during decision making. This article is to be used a guide to help you select the correct jogger length for your body shape and size. Lets take a deep dive into the world of Choosing the Correct Jogger Length.
Standard Golf Pant Inseams vs. Golf Jogger Inseams – It's not Apples to Apples
With traditional golf pants, and any pants in general, there are standard inseam sizes that typically range in 2" intervals (ex. 30, 32, 34 etc..). Most everyone will know their desired inseam length based on other pants or jeans they have purchased in the past. The idea with a standard golf pant is to find a length in which the bottom seam will sit inline with the bottom of the ankle bone or just cover the shoe. Jogger Pants differ from traditional pants as they are more tapered at the ankle (so they wont sit over a shoe) and ultimately, made to show ankle. It is not a good idea to try match your Golf Pant inseam with a Jogger Pant inseam (otherwise you run into your Joggers being too long and looking a little silly (see below for more info). A good general rule of thumb is you will wear a shorter inseam for golf joggers than you do with your regular pants (typically about 2.5 to 3" shorter) For example, a 30" inseam in standard golf pants will translate into a 27"-28" Inseam in Golf Joggers.
Desired Length of Joggers – To Each their Own
The great debate! How should golf joggers be worn. We hear request from our customers about desired length ranging from the bottom hem sitting about 3-4 inches above the ankle, to bottom hem sitting low on the shin to the bottom hem sitting just above the ankle. Here is some example images showing each style:
Image 1: Extra Short Jogger Pant Style (© Avalon Golf Co, 2023)
Image 2: Short Jogger Pant Style (© Avalon Golf Co, 2023)
Image 3: Standard Jogger Pant Style (© Avalon Golf Co, 2023)
Based on the images provided above, you probably have a pretty good idea of the style you are going for. We can tell you, the most popular Golf Jogger Pant length is slightly above the ankle (as shown in image Standard Short Jogger Pant Style above). While deciding on your desired length, always consider the Golf Course(s) or Country Club you play at and their dress code. If a more posh country club, they may frown upon the extra short/short pant style. Bottom line here, golf joggers being worn in many different ways. We aren't here to suggest how they should be worn because we think it all looks good – and your choice, whatever length that may be, will help define your style. If looking for a shorter style look, always consider a shorter length pant (ex. 25 or 27" inseam).
Consider how you Wear your Pants on your Waist – The Hikers vs. The Saggers (and everyone in between)
Not everyone wears their pants the same way. We have those who prefer to wear pants high waisted, with the top of the pant sitting just under the belly button – we'll call these Hikers. And those who wear their pants 2-3 inches below their belly button – the Saggers. Most will fall somewhere in the middle. There is no good or bad here, just something to consider before choosing your golf jogger pants length.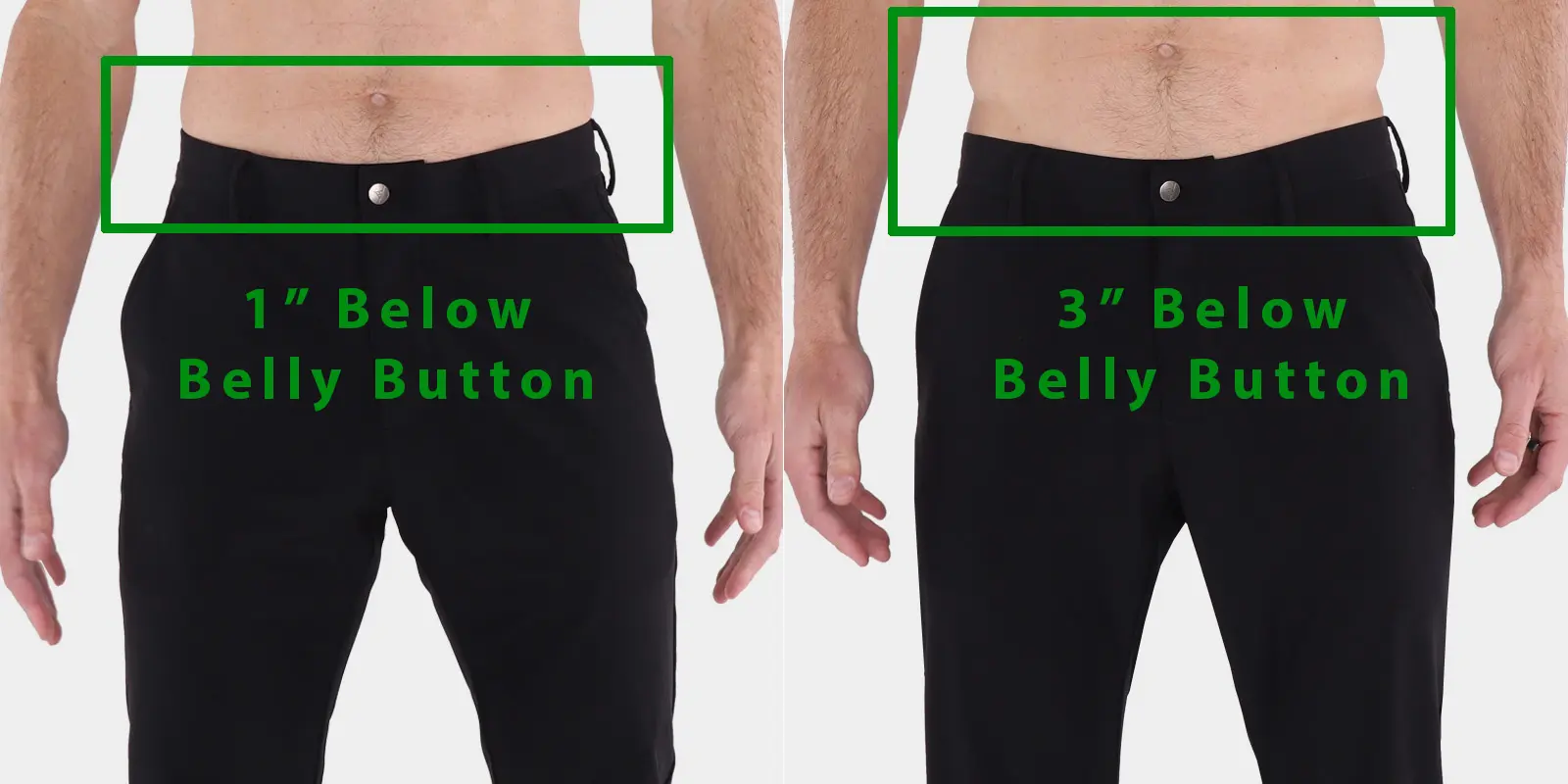 You will need to consider how you wear their pants on your waist when deciding on the correct jogger length. If you're a Hiker and wear your golf pants close to your belly button, you may want to get a jogger pant slightly longer than a suggested length size.
Avoid Joggers that are too Long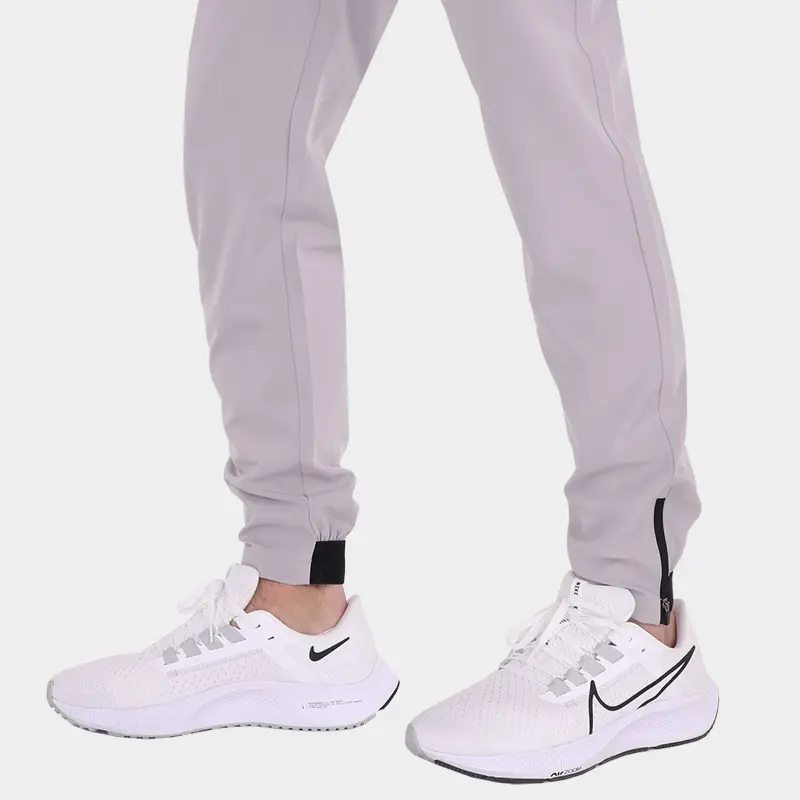 As is the case with any golf pant, you don't want to be buying Joggers that are too long. Golf Joggers that are too long are a crime! We can't stress it enough; Joggers should sit at or above the ankle (this is why they have tapered ankles – they will not cover the top of a shoe). When jogger pants are too long, the fabric will start to scrunch up at the ankle which significantly diminishes the look and style.
Golf Jogger Length Suggestions Based on Height
The below chart is a guideline for suggested Jogger Pant sizing based on height. These suggestions assume you wish to have the bottom hem sit at your ankle bone. This is NOT the holy grail of Golf Jogger lengths and the best length for you may differ based on your preferences and the other considerations listed in this article.
25″ Inseam (suggested 5'8 and shorter)
27″ Inseam (suggested 5'9 and 5'11)
29″ Inseam (suggested 5'11′ – 6'1)
31″ Inseam (suggested 6'2 and taller)
Available in 30 to 38 Waist Size
Available in 25, 27, 29 & 31″ Inseam
Available in 28 to 36 Waist Size
Available in 27, 29 & 31″ Inseam
Available in 28 to 36 Waist Size
Available in 27, 29 & 31″ Inseam
Avalon is an American based men's golf apparel brand. The idea behind Avalon was formed by the frustration of finding high quality, reasonably priced golf joggers and modern men's golf apparel. Traditional brands missed the mark with new age styles while the up and coming, modern focused golf apparel brands were overpriced. This underserved market in the golf industry presented us an opportunity – to create a contemporary golf apparel line with honest pricing and high quality goods that ensured golfers could look good without having to break the bank.
We know what is required in modern golf apparel and understand what our target market wants when teeing it up at the local muni or on their boys trip to Phoenix. As a men's golf wear designer, Avalon focuses on high quality, tailored golf joggers and apparel, that blends performance and style. We know golf because we live and breathe golf. Seriously – we're hooked! Our Modern Luxury Golf Apparel includes the largest selection of Golf Joggers in the industry. Choose from our Players Golf Jogger, Performance Joggers, Tour Golf Joggers or Range Golf Jogger Pant. We also include 7″ Inseam Golf Shorts, Blade Collar Golf Shirts, 1/4 Zip Pullovers, Premium Men's Golf Belts and Accessories in our diverse men's luxury golf collection. We're confident in our ability to design and deliver some of the Finest Luxury Golf Apparel in the golf industry.